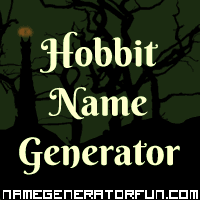 Your surname, Stoor, is from:
Not strictly a family, but rather one of the three 'breeds' of hobbits. The name means 'large, strong'.
You share your first name with this hobbit:
Minto Burrows: Minto was a descendant of the Masters of Buckland and the youngest of the four children of Milo Burrows and Peony Baggins. He was just five years old at the time of Bilbo's birthday party.